AIDS IS NOT DEAD 2013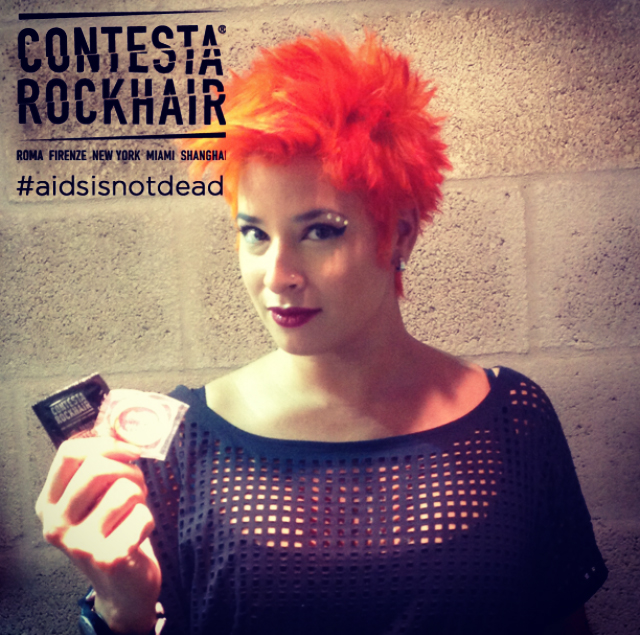 Every year since 2006, on the occasion of World AIDS Day, CRH launches an awareness campaign on the use of condoms called "AIDS IS NOT DEAD". From Saturday November 30th and until the end of December, 2013, every salon in Italy and abroad distributed the CRH condoms with the aim to raise funds for LILA, the Italian League for the Fight against AIDS.
"AIDS IS NOT DEAD" has become a flagship among the Contestarockhair initiatives over the years and the new collaboration with LILA formalizes this launch. Born as National non-profit organization, LILA is recognized worldwide since 1987 and is at the forefront on the issue of HIV prevention as well as one of the first to talk about condom on Italian media channels (tv, web and newspapers). It deals with the prevention against the spread of HIV and provides support to people affected by HIV or AIDS, their families and all those involved. LILA protects the rights of people with HIV or AIDS, develops awareness campaigns and education health projects addressed to the entire population and promotes a culture of solidarity against all forms of intolerance and social exclusion.
During the entire month of December, "1 Condom = 1 $", is the minimum bid suggested by Contestarockhair to support the LILA campaign. "AIDS. Just Protect Yourself" is the claim: a unisex campaign, aimed at both men and women, and a very simple statement wich goes with images that speak for themselves. Images in the Contestarockhair initiative press kit are the same as the LILA uses for its prevention campaign through the use of condoms as the only tool of defense for anyone with an active sex life.
To avoid infection from sexual diseases, condoms remain our only ally. Unfortunately, the question is not so simple: cultural barriers, prejudices and misinformation make the condom still a taboo. Therefore, this campaign gives us the chance to see how free we can be through the naturalness of a gesture that can be part of our intimacy.
We have to keep in mind that HIV infection continues to spread and has now taken a definitive sexual connotation, with 79% of new infections due to sexual intercourse. The use of condoms is recommended by all international agencies that through the use of male and female condoms, the access to testing and the antiretroviral therapy, push the elimination of the infection as a primary goal. . As long as the condom will be surrounded by a negative collective image, it will always remain a hard tool to manage. But this is a necessary ally, so let's give it a chance!