Hair brushes, how to choose the right one
Hair brushes and combs have always been great allies for hair styling. They are available in many variations, to comb, untangle the knots and give shape. Each brush has a precise use, is produced with different materials and is aimed at a particular type of hair. Find out which are the best hair brushes based on your hair type!
Brushes and combs for straight hair
Brushes for curly and wavy hair
Brushes for wet hair
Hairbrushes
Brushes and combs for straight hair
For straight, long and thick hair, the most suitable brush is the wide and rectangular one with a handle, with a "disciplining" effect.
You can find it in different materials: ceramic and plastic help reduce frizz, while wooden hair brushes prevent hair from becoming electrified. If you want to dry your hair by transforming it into a cascade of waves and curls with a natural effect, the brush must be round and narrow. The smaller the brush diameter, the smaller the curl will be: particularly small dimensions are dedicated to short or medium length hair. You can also find it made of wood, ceramic, with boar bristles or metal. This version allows you to obtain more defined curls without the hateful frizz effect: use it in combination with ContestaRockHair Shine, for shiny and silky hair!
The round brush with natural bristles is perfect for combing long hair, both straight and wavy when dry. Its conformation allows to distribute the oil produced by the scalp along the entire hair, contributing to make the hair shiny. The most suitable fine hair brushes are those with wild boar bristles, capable of rebalancing the scalp and hair.
With a spherical brush, however, you can dry your hair giving it volume and a wavy shape. But it is not suitable for untying knots.
Brushes for curly and wavy hair
Among the various types of hair brushes, there are some that are suitable for curly or wavy hair, more difficult to treat than smooth hair. An example is the wide-toothed comb, perfect for being able to "open" the curls; by choosing it in wood you can cancel their electrostatic charge. A plastic brush with soft, not dense bristles is the right option to tame them, avoiding creating the "wool" effect. That, if not created specifically for specific reasons, can be somewhat unsightly. In order not to ruin your hair, always try to choose professional hair brushes and to use specific products for curls. As a Curling Shampoo and Curling Conditioner, specific to untangle and give curly hair the hydration and softness they need.
Brushes for wet hair
Which hair brushes to use in the shower?
To untie the knots, without stressing the hair, the "Tangle Teezer" brush is the most popular. The latest ones can be used for any type of hair and are also perfect for extensions, reducing the risk of breaking them. The wide tooth comb and the silicone or plastic brushes, always with wide teeth, represent the optimal solution to put on the mask or conditioner. In fact, the plastic does not absorb the product and allows you to gently massage the hair.
Hairbrushes
Choosing the right brush, in addition to protecting your style, is also the first step to creating perfect hairstyles. If you need to get a straight line, or to straighten straight hair, then you need to use a fine tooth comb. The round brush with metal roller serves instead to give volume to the fold, or to create waves, if you have straight or slightly wavy hair. Same goes for the round brush with ceramic roller: used in combination with the hair dryer, it allows you to create hairstyles in a short time. The ceramic, by overheating, is able to give support more quickly. The comb with two or more tails is the ideal ally to create more complex looks, even on curly hair, and original zigzag lines.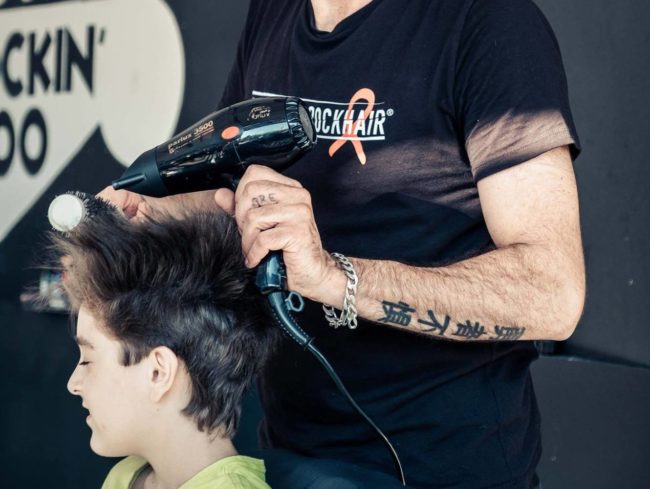 Hairbrushes are not all the same. Only by using the ones best suited to the characteristics of your hair, you can be sure to take care of it in the most correct way. Do not forget to clean and sanitize them regularly, to prevent the accumulation of sebum or residues of styling products from dirtying your beloved hair.