CRH #DOITYOURSELF – CAMILLA PORLEZZA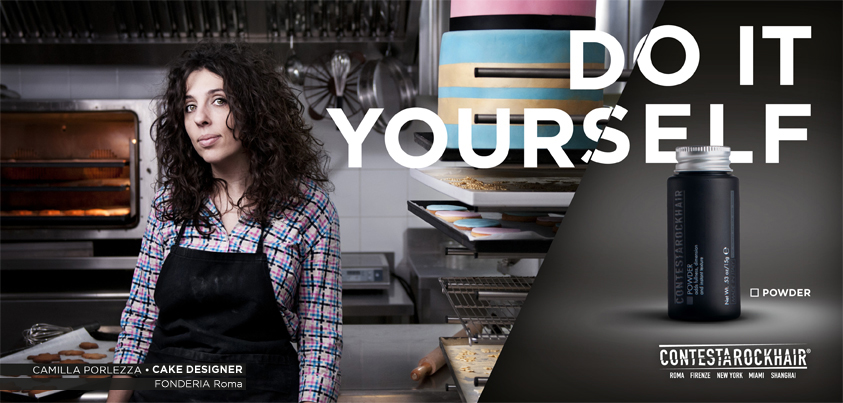 To celebrate the launch of its first 12 products , ContestaRockHair promotes DO IT YOURSELF – Trust Your Hands, a journey into the world of Handmade Creativity which brought us to the choice of five exceptional testimonials: five high-profile personalities who thanks to their excellent manual skills have established their originality in the contemporary creative scene.
Today we are pleased to introduce CAMILLA PORLEZZA – Cake Designer at FONDERIA – Rome.
Camilla Porlezza was born in Rome in 1983. She graduated in advertising communication at IED in Rome and, in 2005, she began her professional adventure by working as a copywriter at TBWA \ Italy. In 2011, she decided to apply her creativity and her experience in a whole new industry: sweets. In 2013, along with an associate art director, she opens the door of FONDERIA, the first pastry shop where the art of cake design mixes illustration, graphic design and communication. A real creative laboratory where cookies and cakes tell stories inspired by dreams. [www.fonderiadolci.it ]
The CRH product choosen by CAMILLA PORLEZZA is POWDER.
Volumizing and texturizing powder to give hair body. Cleans and refreshes hair absorbing sebum from the scalp.