#AIDSISNOTDEAD 2015 – LAUNCH EVENT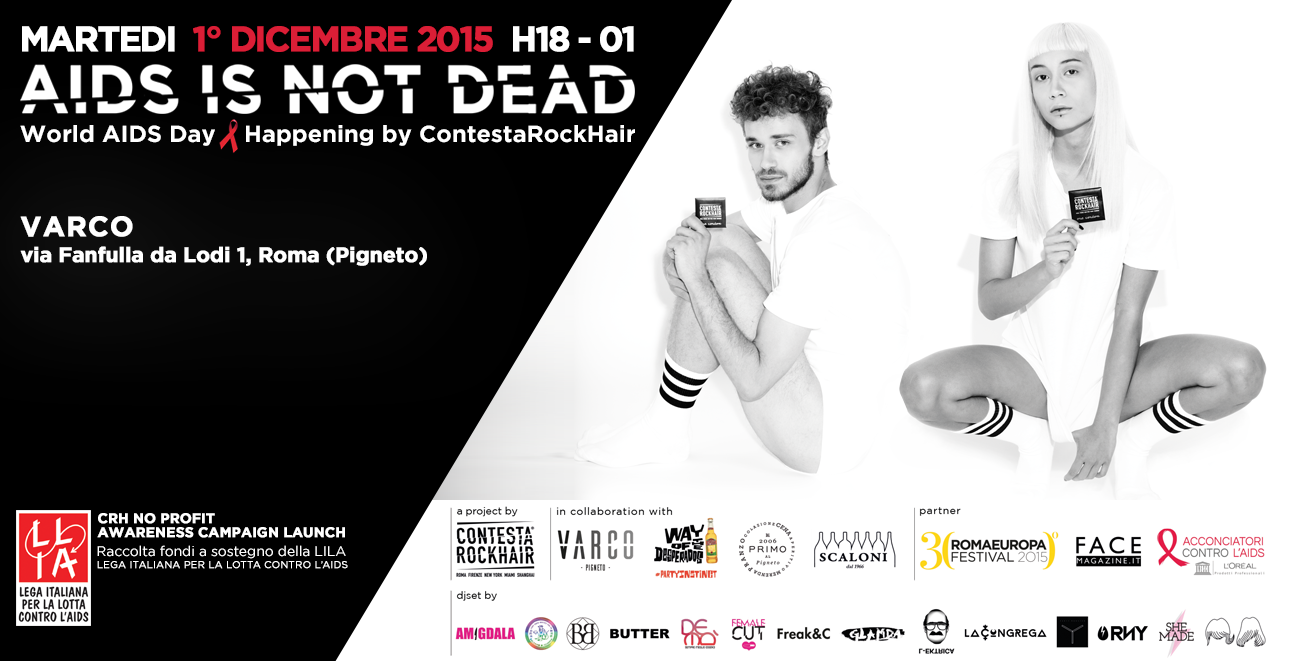 As every year on the occasion of World AIDS Day, ContestaRockHair launches its awareness and fundraising campaign#AIDSISNOTDEAD.
During the month of December 2015, in all ContestaRockHair salons in the world, the CRH condoms will be distributed with the aim of raise funds for LILA – Italian League for the Fight against AIDS.
On Tuesday, December 1st, the spaces of VARCO in Rome will host the launch of #AIDSISNOTDEAD 2015 which will be celebrated during an explosive happening built with the collaboration of an amazing network of creative partners, and everybody will be invited to participate in the annual PHOTO CALL: BE OUR TESTIMONIAL > JOIN #AIDSISNOTDEAD!
● THANKS TO OUR BELOVED PARTNERS:
VARCO
#Partyinstinct – #WayOfTheDesperados
Primo al Pigneto
Enoteca Scaloni
Romaeuropa > http://romaeuropa.net/
#acconciatoricontroaids > http://www.acconciatoricontroaids.it/
FACE Magazine | http://facemagazine.it/
Amigdala + Blackblessed + Butter + DEMO' – Sempre Meglio Esserci +FemaleCut Italia + Freak & C + Glamda + Lady Coco & ∆ Balsamo Di Scimmia ∆ + L-EKTRICA + La Congrega Observatory + Party Monster +Rock'n Yolk + She Made + Touch The Wood Club
#AIDSISNOTDEAD | LAUNCH EVENT
MARTEDI 1 DICEMBRE 2015 – H18
at VARCO | via Fanfulla da Lodi 1 – ROMA